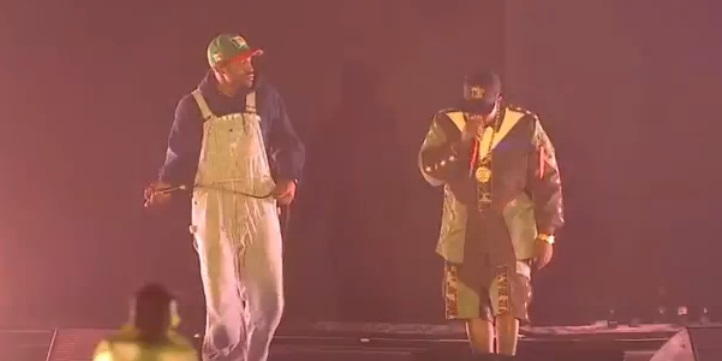 Luego de ocho años de silencio, el dúo de hip hop formado por Andre 3000 y Big Boi volvió a los escenarios con un potente show en el marco del Festival de Coachella, que por estos días se lleva a cabo.
Con sus éxitos "Ms.Jackson", "Hey Ya" y "The Way You Move", este show fue uno de los peaks del festival hasta ahora, con un set de 27 canciones en total. El concierto completo puedes verlo aquí. (Lista de canciones, más abajo)
Lista de Canciones:
B.O.B.
Gasoline Dreams
ATLiens
Skew It on the Bar-B
Rosa Parks
Da Art of Storytellin'', Part 1
Aquemini
SpottieOttieDopaliscious' (with Sleepy Brown)
Bowtie' (with Sleepy Brown)
Shutterbugg
Ghetto Musick
Tightrope' (Janelle Monáe cover) (with Janelle Monáe)
Kryptonite (I'm on It)' (Purple Ribbon All-Stars cover)
Vibrate
She Lives in My Lap'
Prototype
Behold a Lady
Roses
Same Damn Time (with Future)
Ain't No Way Around It (with Future)
Benz Friends (Whatchutola) (with Future)
Hootie Hoo
Elevators (Me & You)
Ms. Jackson
So Fresh, So Clean' (with Sleepy Brown)
The Way You Move' (with Sleepy Brown)
Hey Ya!